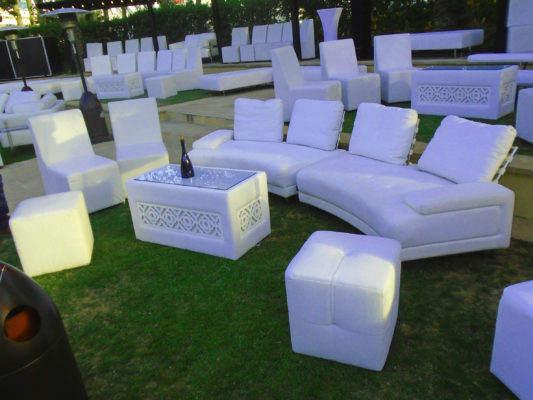 Certain events may call for a lounge area where guests can take a break to relax, have cocktails, and socialize while waiting for the main festivities to start. Designing and creating a lounge will require a careful process that involves creativity in planning the layout and using the right lounge furniture rental, which can be cost-effective than providing your furniture.
By renting sofas, tables, and other lounge accessories and décor, you can save time and money, and get only the best pieces that will impress your guests. Consider these five tips to succeed in renting lounge furniture:
Find the right furniture rental service –We are established and well-known in offering premium quality accessories and pieces for exhibitions, weddings, private parties, outdoor events, and corporate events. Verify their experience and trustworthiness by looking up customer testimonials and feedback.
Go over their inventory – We make sure that we provide only the best items, no matter how big or small the furniture or décor is. We carry a wide array of pieces from LED furniture to seating and tables and traditional Arabic furniture.
Find pieces that will suit your theme or event –We carry a wide array of items that can be mixed and match to suit your preferred theme. Work with our professionals and specialists when selecting items. Our expertise should make it easier to pick products that will truly impress your guests and add individuality to your special occasion.
Get a quote – Take note of the pieces that you want to rent and get an estimate on their cost. Make sure that the quote includes delivery fees. Check with us regarding set-up and pack-up services too.
Learn about the refund and cancellation policy – In case your event gets cancelled, or you change your mind, we should be able to give your money back and cancel without giving you any problems.