Traditional Arabic floor seating styles are very popular even in contemporary home settings. They are also very widely used in events, mainly because they provide a cozy, comfortable, and soothing area where people can sit back in complete relaxation. Arabic floor seating sofas, also referred to as Majlis, Jalsa, or divan, traces their origins to Muslim traditions and there are almost as many styles of this type of seating as there are different regions in the Arab world. The best thing about Arab style floor seating is their simplicity, which creates an inviting and cozy space that can accommodate large numbers of people and guests. When you are in the market for Arabic floor seating for your own home or during events and celebrations, keep in mind the following tips: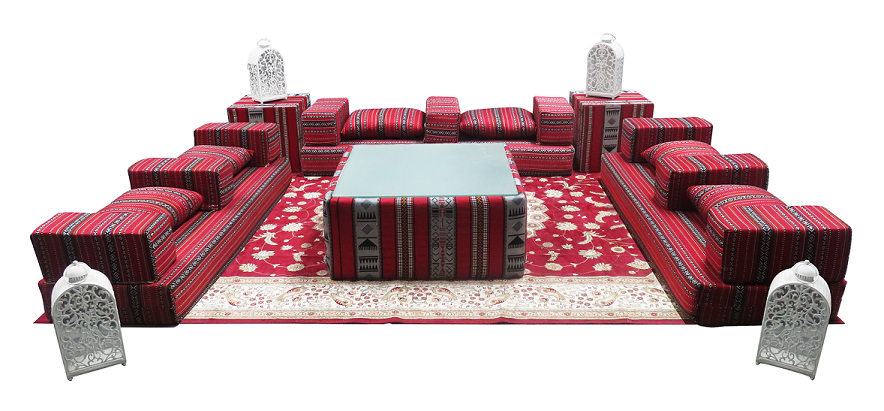 • One common mistake people make when shopping for Arabic floor seating is choosing sofas that are too tall or are not of ideal height for a comfortable floor seating setup. The main thing about this seat style is its laidback and multifunctional nature. Floor sofas are meant to blend almost seamlessly with your floor space and area rugs, which also play a major part in creating a cozy space where your guests can lounge about. Tall couches simply don't offer the same laid back and seamless vibe that floor sofas provide.
• Another mistake people make when buying Arabic floor seating is failing to measure their space. When you don't take time to measure out your floor area, you will end up with pieces that will either crowd your seating area or are not enough to fill your large room.
• It is also the best to choose floor seats with washable covers for easier maintenance of your floor seaters. Too many Arabic floor seating owners make the mistake of buying coaches that don't have zipped covers, which make it impossible to clean or wash their sofas.